November 2022
Manuel Rupp, founder and CEO of weLOG. (Photos: Ralf A. Niggemann)
weLOG
Start. Solve. Fulfill.
In June 2019, Manuel Rupp launched his own company with an innovative business concept. Three years later, weLOG employs almost 125 people in 7 locations. Investors from all around the world take an interest in it. How could this come about?
Growth can be best deduced from rising rates and upward curves. In the entrance area of weLOG, the growth of the company may be discerned from the fact that space is running out on the wall surface showcasing their customers. By now, their number runs to over 70. WeLOG's "who is who" ranges from Oculus and Hexagon to Lufthansa, CSL Behring and Clariant through to emerging startup and eCommerce companies such as OACE or Monocle. We are curious to meet with company founder Manuel Rupp.


Instagram was two years old and had no more than 23 employees when the startup company was bought by Facebook for the terrific amount of 1 billion US dollars in 2012. Manuel Rupp's company weLOG may already be three years old – but he is goaded by the dream that one day, the company may belong to the distinguished circle of startup unicorns. Which means startups with a business valuation of over 1 billion US dollars. "I like to think big", says Manuel Rupp with a confident smile. And there is no doubt that he knows exactly what he is doing.


The beginnings of a new business concept
Basically, the case history begins only a stone's throw away from the weLOG company headquarters in Siegmund-Hiepe-Straße. Employed at an established Wetzlar logistics company, Manuel Rupp studied for his bachelor degree in SME management, majoring in logistics, within the framework of Germany's dual system of vocational education and training. He worked his way up to head of IT and manager vested with general commercial power of representation. At that time, he already realized that logistics can be far more than only "transportation". Business is getting more and more digital. It is exactly the eCommerce sector that opens multifarious possibilities to provide customers with a whole bunch of services which will facilitate their jobs.
In Manuel Rupp's mind, a business concept was growing to fruition that he wanted to pursue relentlessly. And with a business of his own, at that. "Of course, the world had not been waiting for another logistics company," Manuel Rupp admits, "but my original business concept did in actual fact entail that as solution providers, we would be offering customers more than just logistics." In June 2019, he founded weLOG GmbH in Wetzlar. In fall, the company commenced its operative business, 10 people were hired. At the beginning of 2020, weLOG moved into the new logistics complex with an effective floor space of 9,000 m². "And then came Corona," Rupp recalls. "It was a challenging time, particularly because our core business at that time was in the advertising material logistics. In the course of the first pandemic wave, customers completely brought down to zero their field services and fairs, conventions, or promotional events. It was a disaster."


Becoming a solution provider through digital transformation
Manuel Rupp made a virtue out of necessity – or one could also say: He counter-cyclically put all his eggs into one basket by laying the foundation for the planned expansion to becoming a solution provider. 30 new employees were developing a digital architecture with a corresponding interface management. From the initial area of operations in advertising material logistics arose individual services which do not only include logistics but sales and marketing as well. Manuel Rupp calls them "puzzle pieces" which can be embellished and utilized by customers according to their requirements. During the first months, weLOG secured deals with ten big customers, among them Lufthansa. All of Lufthansa's advertising material is stored in Wetzlar. Their worldwide employees are able to retrieve and order advertising material online from weLOG. Word is quickly getting around that the concept is functional and appreciated by customers. This is certainly the best recommendation. "Apart from a couple of ads in the magazine of the IHK Lahn-Dill, we didn't do any advertising," Manuel Rupp relates.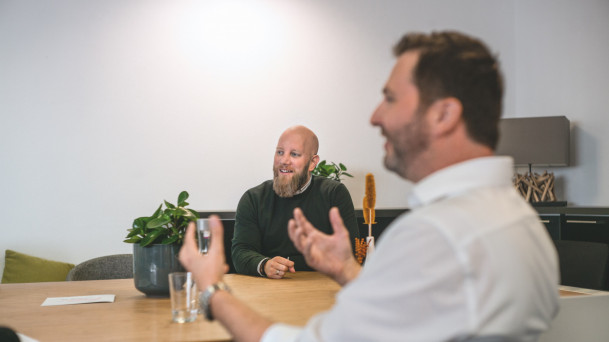 »What matters most from my point of view is the insight that digital transformation is not just pure technology but comes with a whole lot of questions.«
Manuel Busse
It is especially the eCommerce sector which develops an incredible momentum. And weLOG has all the markings as a solution provider to serve existing customers in the best possible way and to attract more. The digital transformation adds to the offered services and accelerates the processes. In order to run this race in the top league, Manuel Rupp gets a proven expert on board as "digital navigator" at the beginning of 2021: Manuel Busse. He brings along a lot of knowledge, experience and visionary ideas from his former job in the advertising agency business. "What matters most from my point of view is the insight that digital transformation is not just pure technology but comes with a whole lot of questions," Busse points out: "How can we create an additional value for the customers? What kind of services are really helping the market? What are the effects of social changes and how do they influence markets? How can various solutions and platforms within a digital ecosystem be interconnected in an intelligent way?"


Comprehensive services and fulfillment services for customers
Such a comprehensive approach plays a central role for weLOG in order to be able to provide customers with full-scale and at the same time individual solutions. The in-house competence centers create webshops and online marketing campaigns, platforms and tools for customer service, return management or payment reconciliation; they set up channels on a wide variety of platforms, especially in social media, and operate target group-specific brand communication using sophisticated targeting. At weLOG, there are alone three teams responsible for international and national customer service as well as retail customer service. At the end of the day, this means for customers: more visibility and wider coverage through smart marketing strategies and targeted communication with final customers; efficient processes from warehousing and dispatch handling to delivery; comprehensive services and fulfillment services for global customers. An in-house freight and customs agency rounds off the 360-degree solution approach.
Small startups, medium-sized companies, or big corporations get all this from a single source: weLOG. In order to meet all the different customer requirements, Manuel Rupp established the department "Industry and Processes" where specific solutions are developed and implemented for the industry. In the consumer sector, a lot of wit and creativity are devoted to affording the manufacturers' final customers with an unparalleled "unboxing experience". That means that final customers – especially those of premium brands who always buy a brand identity together with the product – won't get their product just delivered in a brown cardboard box but in a packaging design specific for the brand.
»We want to be the Amazon for all companies who want to retain their own identity.«
Manuel Rupp
Working hard for the dream of the startup unicorn
This is what lies at the core of Manuel Rupp's vision: "We want to be the Amazon for all companies who want to retain their own identity." Sounds presumptuous, is the first thought to cross one's mind before one remembers the above-mentioned dream of the startup unicorn with a business valuation of 1 billion US dollars. On the other hand: Why not? The rapid growth of weLOG is impressive; the customers are satisfied and their numbers are increasing. In Ehringshausen, the company is planning to set up the most state-of-the-art fulfillment center in Germany with the final expansion comprising 84,000 m² of warehousing space. Since the beginning of this year, Manuel Rupp could convince a couple of globally acting startup investors of his vision, his plans, and the scalable business model – among them three unicorn founders who have made it to the very top themselves. And who knows? Perhaps Manuel Rupp will actually belong to this illustrious circle one day. He wants to achieve this goal until 2030. If it takes a little bit longer, he won't mind. But he leaves no doubt that he wants to achieve his goal.


Additional Information: