November 2022
Photos: Ralf A. Niggemann
OPTIMAL SYSTEMS
Information Management
OPTIMAL SYSTEMS develop software for information management and distribute it on a worldwide scale from their headquarters in Berlin. A team in Wetzlar also supports the companies in the region.
On the map of OPTIMAL SYSTEMS, the location Frankfurt covers a whole region. As a matter of fact, the team of twelve is based in Wetzlar. For branch manager Daniel Lugner and his assistant manager Lena Weiss, this is not just their professional homebase, they also have a precise knowledge of the industrial region. They introduced themselves and their company on the occasion of an evening of entrepreneurs.


Digitization is an international business. That is noticeable by the mere fact that the developers and providers of solutions to that effect consistently jargonize in English. In addition to admins and archives, comprehensive cloud services and enterprise content management solutions, the ABC of digitization lists a multitude of tools and workflows which provide additional value to the companies. So, it is quite easy to lose track – especially when it comes down to sensibly weighing the pros and cons for you and your company. This makes it all the more important to pick up SMEs and corporations, regional industries and sectors where they stand when it comes to digitization.


The proximity to customers in their digitization is indispensable
And this is exactly where OPTIMAL SYSTEMS comes in. The company's headquarters have been in Berlin since their founding in 1991. But they dedicated themselves to proximity to their customers from the very beginning. Today, more than 600 employees at 16 locations take care of customers' needs. That sounds big. And that's what it is. But despite it all, things are very familial according to Daniel Lugner: "This summer, when we belatedly celebrated the 30-year existence of our company, they all came together in Berlin – and it was really like a celebration with the whole family."
When Daniel Lugner talks about the Berlin company for which he works at the Wetzlar location, it does indeed not sound as if he is talking about two different worlds. He is branch manager of the Frankfurt location of OPTIMAL SYSTEMS which has been based in Spilburg since 2020. Lugner comes from the region. His assistant manager Lena Weiss was born in Wetzlar. "You have to know the business here and understand the mentality of the people," Lugner says. And Lena Weiss adds: "Many enterprises in the region were founded and are still run by a family, and their proprietors have no use for an anonymous expert who just wants to sell them interchangeable or standardized solutions." The proximity to customers and specific support in their digitization is thus indispensable.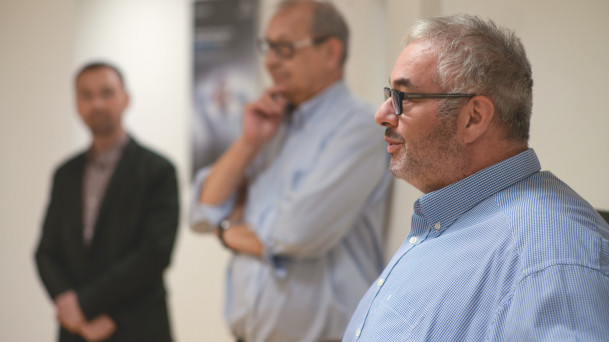 »You have to know the business here and understand the mentality of the people.«
Daniel Lugner, Branch Manager
An all-inclusive solution to optimize operational processes
Lugner explains masterfully – and in terms that even a layperson understands it – what this assistance looks like in practice and what exactly it accomplishes at the customer's. "It's not rocket science what we're doing here," he points out – and then pauses for a moment, chuckling. For: in actual fact, OPTIMAL SYSTEMS were founded as a spin-off of the Berlin Space Institute in the early 1990s. At the time, company founders Karsten Renz and Sven Sauer had developed an image archiving system at the institute for space images taken by German astronaut Reinhard Furrer. From that evolved an archiving system which was enhanced with extensive document management. Systemic and functional subsequent development finally resulted in the Enterprise Content Management Suite enaio® which has been the foundation of the commercial activities of OPTIMAL SYSTEMS down to the present day.
"Our platforms and system solutions are aimed at managing documents and information with an all-inclusive solution thus optimizing the operational processes of the customers considerably," Daniel Lugner explains. Why this is anything but trivial? Point 1: Because almost all departments experience a constant increase in documentation – from personnel management to production and down to customer support. Point 2: Because it has become common practice by now to not only effectively document internal processes but to also transmit inspection results or auditing data digitally to external customers and partners. Point 3: Because many companies forget to keep an eye on the big picture when faced with the multitude and complexity of tasks.


Digitally interlinked architecture and infrastructure
"There is an urgent need to act upon these points in many companies," Lena Weiss says. "Some of them do take action but we find again and again that they rely ad hoc on well-intentioned isolated solutions instead of well-made comprehensive systems." The product lines developed by OPTIMAL SYSTEMS provide such comprehensive solutions. As mentioned, enaio®® is their Enterprise Content Management Suite; yuuvis® RAD is a web-based Content Service Platform optimized for clouds; yuuvis® Momentum, on the other hand, was specifically designed for archiving enormous data volumes. Enaio® is characterized by the option of modularly adding on more than 100 solutions for all industrial branches and operational processes. The yuuvis® product lines are made to serve specific solutions for individual requirements.
"You have to think of it as a Lego plate on which you build a couple of little houses and then connect them with each other until the architecture and infrastructure are growing into a little town," Daniel Lugner says. So, there is – to stay in the picture – a house where the HR department is linking the data of staff to documents or where the company vehicle management supervises the annual providing proof of drivers' licenses or service intervals as well as checking driver's logbooks or gas receipts. In one of the other houses, test reports or certificates for production orders are recorded and can be accessed directly by customers. Laboratory documentation of material tests or in the medical sector, for example, is centrally recorded again "one street further down". What matters is that these houses don't exist side by side but that they communicate with each other. This is what makes such an architecture and infrastructure extremely efficient.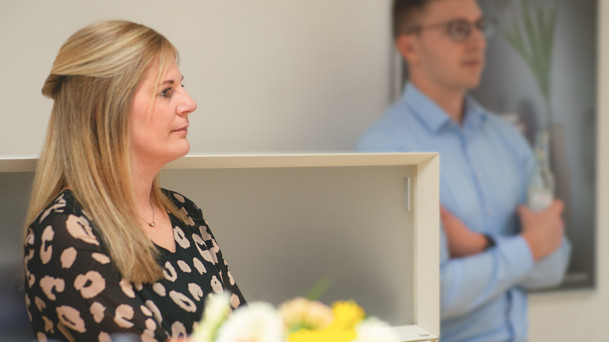 »The basic principle behind our comprehensive software is that with the modular system, we are able to offer our customers solutions which are truly custom-made.«
Lena Weiss, Assistant Branch Manager
Modular system enables customized solutions
"The basic principle behind our comprehensive software is that with the modular system, we are able to offer our customers solutions which are truly custom-made. In addition to that, each individual modular unit can be refined and scaled as desired", Lena Weiss enthuses. Another benefit is that the document management facilitates full-text search. But not everything that can be found is also allowed to be viewed. For it is at least just as important to have a concept of rights connected to the systems which regulates the right to access with regard to people, object types, and class of documents. Observance of the GDPR is given top priority here – especially when it comes to protecting personal information and other sensitive data.
Apart from the data security and functionality of the OPTIMAL SYSTEMS software solutions, user-friendly operation plays a significant role in the view of the customers, says Daniel Lugner: "We repeatedly hear that our customers get the hang of our software very quickly and easily. For us, this is very gratifying but for our customers, this is valuable in particular because it is a great benefit for all parties, if working with the systems we implemented comes quite naturally to their employees."


Competent junior employees for the future
In order to keep achieving this, it is necessary for OPTIMAL SYSTEMS to constantly stay on task: with one ear to the development of digital transformation ranging from Industry 4.0 and the Internet of Things (IoT) to AI applications; and with the other ear close to the customers and the requirements of the industrial branches. At the Wetzlar location, this is ensured by the two branch managers together with a team of 12 employees. Among them, there are also two apprentices: one of them is training as IT specialist for application development, the other as digitization management officer. For Daniel Lugner and Lena Weiss, they are worth their weight in gold – and also part of the future: For when it comes to assisting as many companies in the region as possible with digitization in their business in the years to come, it will all depend in particular on competent junior employees.


COMPANY PROFILE
OPTIMAL SYSTEMS was founded in Berlin in 1991. From there, the company supports customers all over the world in digital archiving, document management, and digital workflows. The company group incorporates 16 companies and subsidiaries all over Europe and partners around the globe. In 2020, OPTIMAL SYSTEMS joined the Kyocera Document Solutions Group which is part of the Kyocera Group.


Additional Information: